For me, once again, this was heaven in disguise as I connected with familiar brands and discovered some new ones as well.  The Sweets & Snacks highlighted several resources and programs represented at the show including some of your favorite products as well as new emerging ones.  From award ceremonies to the suppliers showcase to training opportunities and presentations on current DEI initiatives, to good old-fashioned face to face interaction, the event once again created an excellent environment to connect with peers and embrace the confectionery & Sweets and Snacks industry.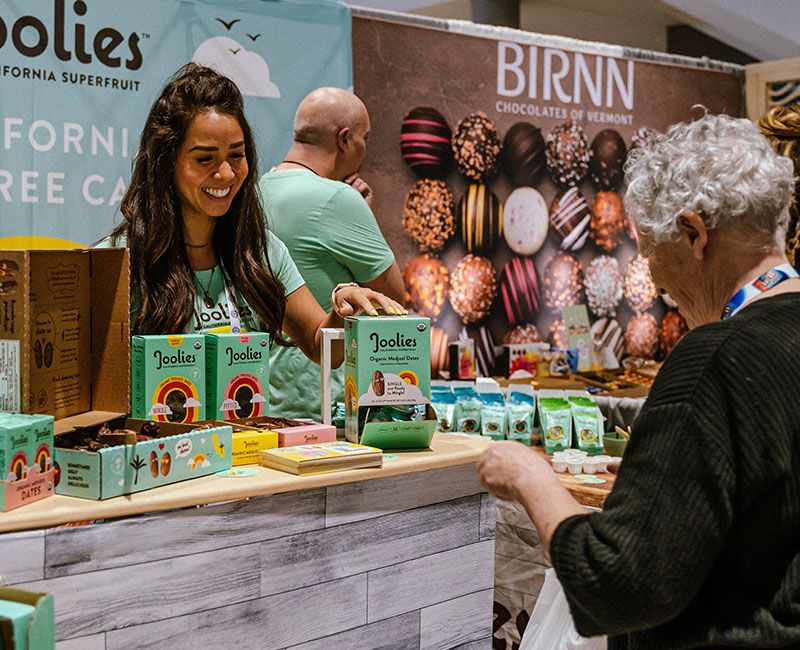 We are sad that this was the last year of the expo in Chicago, but we will see you in Indianapolis next year. You can check some clips & reactions from my personal Instagram page where I highlighted some brands while sampling. Feel free to view the entire personal highlight stories HERE. Will take about 5 mins. Catch some exiting coverage of this event exclusively only on RIDEPLAY tv the next time you take a rideshare! 
About The Sweets & Snacks Expo
The Sweets & Snacks Expo is a trade event formerly known as the Candy Show that showcases candy and snack innovation/products & brings together the manufacturers and the retailers to make decisions about what heads to retail store shelves or through ecom sites. The show highlights confectionery and snack products and the companies that created them in a three-day event. The Sweets & Snacks Expo is the premier confectionery and snack trade show where you will taste and explore new products, find market and consumer insights, and make connections with thousands of industry professionals. 
About RIDEPLAY tv
RIDEPLAY tv has been entertaining passengers for four years and has earned rideshare drivers' higher tips and ratings across the country while also supporting this gig economy through its rev share programs.
Learn how RIDEPLAY tv can help you expand and reach your audience. Simply complete the form on the right TODAY! Since coming into formation, RIDEPLAY tv has been a proud sponsor and media partner of some of these lavish events surrounding major publications & conventions. All vendors that participated are encouraged to take advantage of the exclusive airtime offer through the RIDEPLAY tv screen inventory. Please contact your event producers for details.
STAY CONNECTED to RIDEPLAY tv:
Request Media Coverage
Inquire for Paid and Earned Media